Frequently Asked Questions – Fire Pits
---
Questions and answers about our quality, American made cast iron fire pits.
Are your fire pits really made in America?
You better believe it! We've been in business right here in Columbus, Georgia since 1882. That's 140 years of pouring quality iron! Even ABC News featured us in their news segment!
ABC NEWS – MADE IN AMERICA
We are honored that ABC News would select Goldens' Cast Iron as part of their news series, "Made in America". On behalf of all of our hard working employees, we extend humble thanks to David Muir and the ABC News Team.
What is a syrup kettle?
Back in the 19th century, the sugar cane industry utilized cane mills to squeeze cane juice into large syrup or "sugar" kettles to boil down sugar cane into either molasses into sugar or sorghum into sorghum syrup. Sorghum is extracted from the crushed stalks of a sorghum plant. It is then heated in a large syrup kettle to steam off the excess water, leaving sorghum syrup behind.
Molasses is the by-product of squeezing sugar cane through a cane mill, then boiled down into a concentrated for that eventually crystalizes into sugar.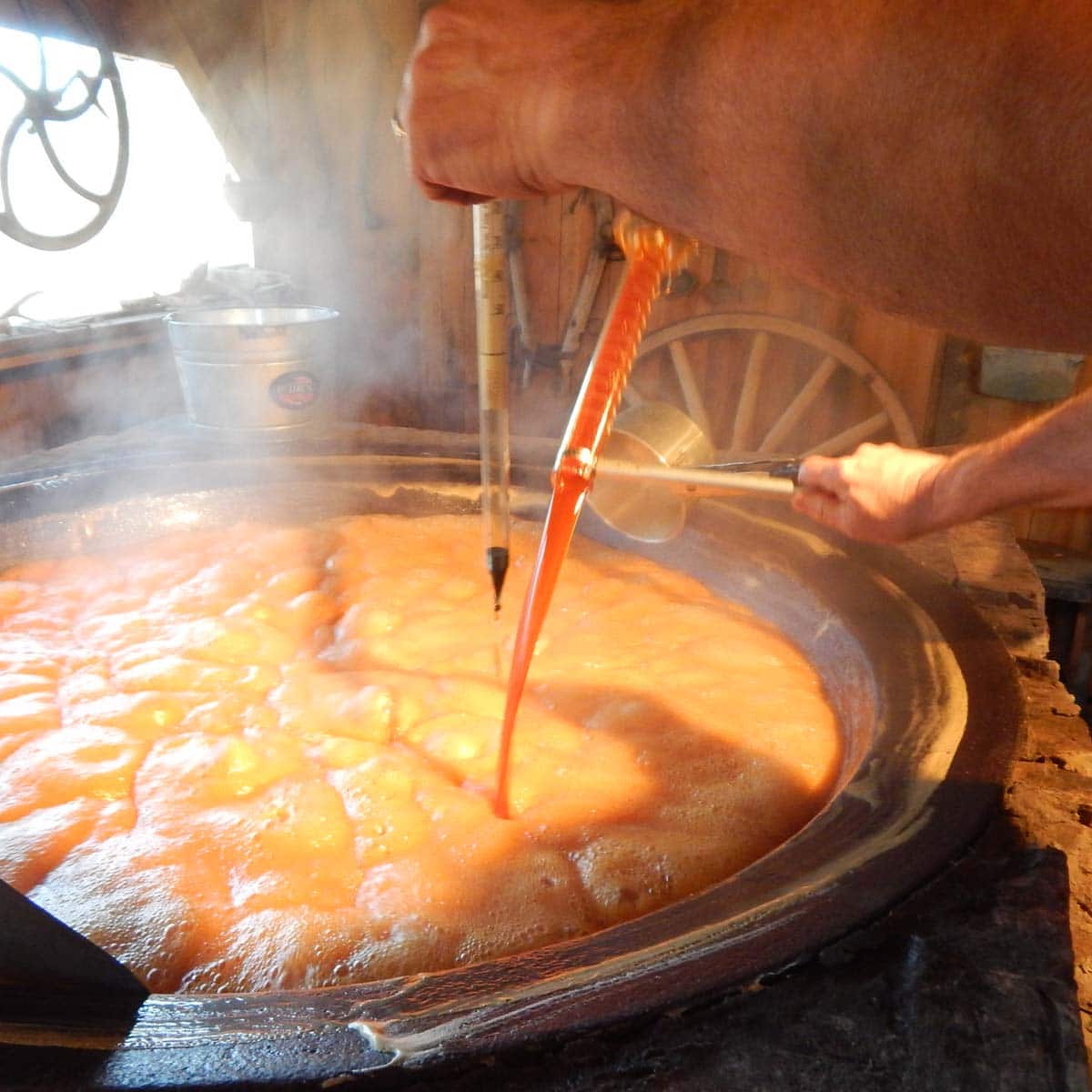 How long has Goldens' produced syrup kettles?
Goldens' Foundry and Machine Company has been in business since 1882 and began producing syrup kettles during the sugar cane industry boom. The kettle sizes ranged from 20 gallons up to 120 gallons. Goldens' also produced many variations of cane mills. Production lasted until the mid-1950's.
Back in the late 1800's many farmers grew sugar cane. Goldens' Foundry produced cane mills that shredded the cane and separated and strained the sugar juice, then boiled the sweet sorghum in our cast iron syrup kettles that made syrup and molasses. Many of our cane mills and kettles have survived for well over a century!
How heavy is a Goldens' Syrup Kettle Fire Pit?
30 gallon is 290 pounds, without stand.
20 gallon is 157 pounds, without stand.
What are the specifications of the 30 gallon fire pit?
What are the specifications of the 20 gallon fire pit?
How are the syrup kettle fire pits shipped?
How long does it take for a syrup kettle fire pit to be shipped?
Typically shipping time is 15-20 business days from the date of order, largely due to high demand. However, they have been known to ship sooner than that but it depends on current shipping and supply chain issues across the country.
What can a syrup kettle be used for?
In addition to processing cane to sugar, syrup or "sugar" kettles can be used as fire pits or landscape planters or even a water feature like a fountain. They can be used as fish pounds or even water fountains. Of course with cast iron construction, fire bowls or fire pits, as we call them, are perfect for your outdoor environment.
Can you run a gas line into your fire pit?
Yes! We offer a 1″ pre-drilled Hole (bottom-center) of the fire pit so if you choose, you can run a gas line through the bottom of the fire pit, then fill the pit with your favorite glass beads, lava rocks, or ceramic logs, whichever fire-resistant material you prefer!
SAFTEY FIRST! We offer great caution when dealing with gas lines and connections. Please educate yourself on utilizing gas lines and make sure that they are fresh, well maintained and have no leaks. Review YouTube tutorials on this subject. It's very important for your safety!
Can you place your fire pit on stacked stones?
Do you have fire pit covers?
Presently, we do not carry fire pit covers but have plans in the future. For now, we recommend ClassicAccessories.com.
I some rust on my fire pit. How can I touch it up?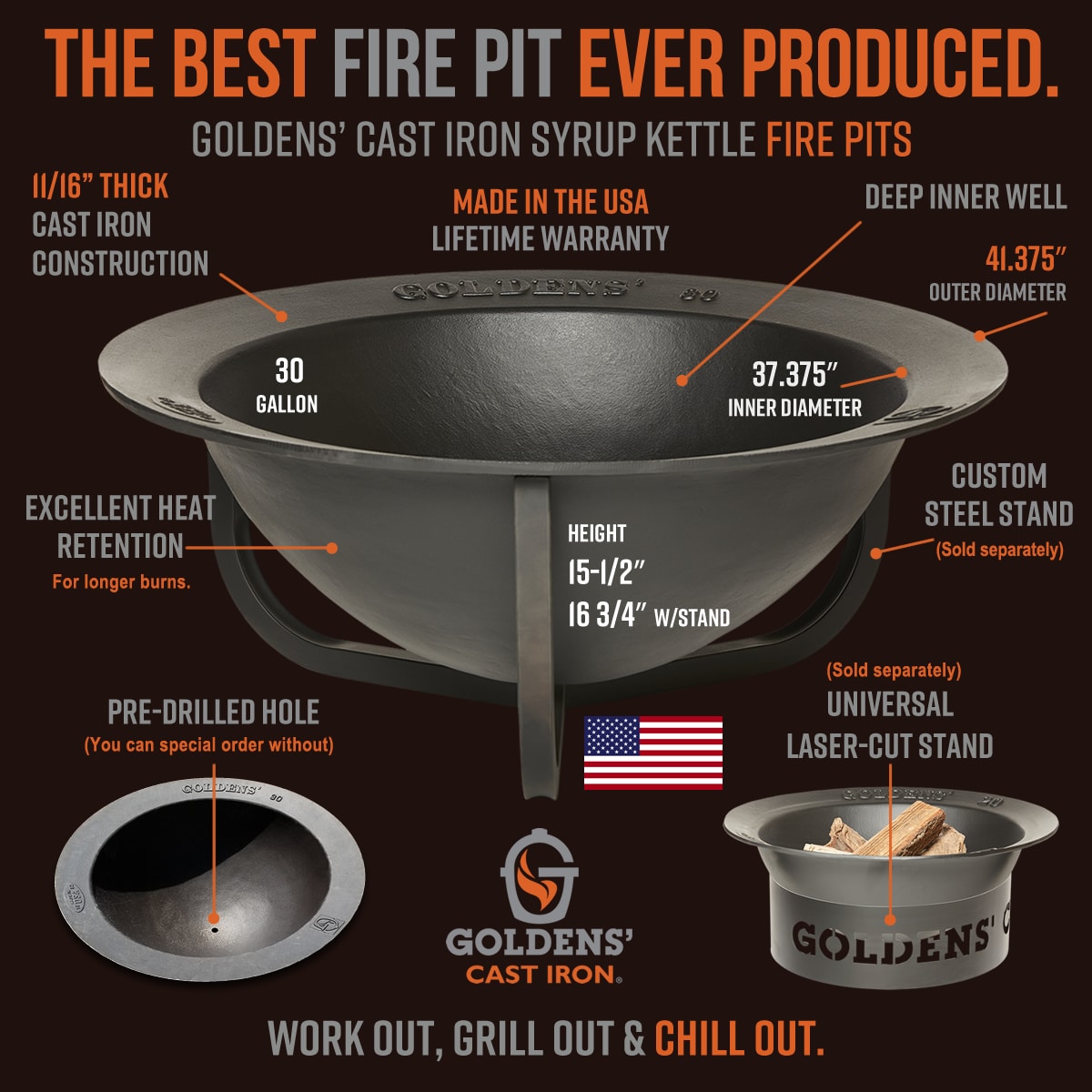 Backyard Landscape Design
---
Chill out. There's nothing better than spending the afternoon or evening around an outdoor cast iron fire kettle, telling stories and enjoying life with family and friends. Goldens' Cast Iron Fire Pits really enhances your outdoor, backyard landscape. Serving as a center point both for activity and outside living area design, your cast iron Fire Pit will put the party in your yard!