Frequently Asked Questions
Questions about the world's toughest cast iron cooker and kamado grill.
Why Cast Iron?
Since the beginning of the Iron Age, iron has been recognized for its superior strength and durability. Its unique thermal properties have also made it the material of choice for cookware. Goldens' Cast Iron Cookers capitalize on the enduring strength and even heating characteristics of cast iron to create a kamado grill without equal.
Life is fragile. Your grill doesn't have to be!
Did somebody ask about durability? Unlike ceramic grills, the cast iron kamado is Made in the USA and is built to last. Goldens' Cast Iron Cookers come with a lifetime guarantee. Our family has been pouring iron and machining castings for five generations. Solid cast iron construction and engineering allows us to truly say that the Goldens' Cast Iron Cooker can go from our fifth generation to yours!
Don't take our word for it. Ask your Grandma – just watch that she doesn't smack you in the head with her cast iron skillet for asking stupid questions!
What About Rust?
Rust – heck, what about earthquakes and hurricanes! Mother Nature can be tough, and Goldens' Cast Iron Cooker is up to the challenge. The exterior is covered with a high temperature coating that protects the grill from rust. The interior of the grill will be protected as you use it – by giving all the interior surfaces a fine patina of smoke and flavor. As for hurricanes, properly mounted on our patented hurricane stand, your Goldens' Cast Iron Cooker will be ready to cook when the tide goes out. Earthquakes? We take the shaking and keep on baking or grilling or smoking. 3/8" cast iron walls ensure the weathering of harsh conditions.
It's too expensive!
You get exactly what you pay for. When we say, "The highest quality, always", we have more than 140 years of experience to back it up. Our Goldens' Cast Iron Cookers are top quality, not the typical disposable and fragile ceramic grills on the market. What you are buying is a well engineered, durable, American made product that never needs assembly, never needs adjustments, and more importantly, never fails. Consider your purchase of a Goldens' Cast Iron Kamado as an investment for generations.
Cooking with cast iron offers advantages over alternative kamado cookers such as increased durability and less moving parts.  Additionally, cast iron's radiant and thermal properties provide even heating and precise temperature control. The thermodynamics of cast iron are far superior to ceramic, giving you a long and consistent burn with less fuel.
We build our cookers right here in Columbus, Ga, USA. We are never "out of stock", as many ceramic companies appear to be these days. Imported ceramic is in short supply.
More and more former ceramic owners are joining the Iron Age, and when they buy Goldens' Cast Iron, they support American manufacturing, and support American families. We appreciate that very much. Trust when we say, "If you actually see the cooker in person, it will immediately change your mind, as it has with many former ceramic owners". You're welcome to visit us or any authorized dealer. You'll be pleasantly surprised, as many customers have.
Our cookers are affordable! We offer a great opportunity for you to pay as you go! We provide easy and affordable financing through our partner, Bread, so you can pay for your purchase over time. Take a look!
Financing
How is the cooker shipped?
Goldens' Cast Iron Cookers will arrive on a pallet. It will be strapped securely to the pallet and the tables will stacked and wrapped on the grill. Then the grill is boxed for protection. The dimensions of the box container, including the pallet are:
Height: 51″
Length: 73″
Width: 29″
How long does it take to assemble the kamado?
No time at all! The cooker is fully assembled! Only 8 bolts are needed for the cart and that's it! When your cooker arrives, it's securely strapped to a pallet and covered with a box. You just need to make sure you have someone there to assist you in removing it from the pallet and rolling it in place. It now has casters so you can roll it over relatively smooth surfaces! Then you put your tables on! That's it! If you have your socket set handy, that takes 5 minutes and you're ready to season your Goldens' ! Here's an image of what cart assembly looks like. It's super easy to do! Cart Assembly Instructions
So while your ceramic friends take 2-3 hours to assemble their kamados, you'll be rolling in smoke in minutes! When your friends are worn out from 3 hours of ceramic cooker assembly, invite them over and serve up the goodness! They'll be really tired and hungry by then!
What are the cooker dimensions?
Cooker Dimensions Without Cart:
Width – 22.5″ (outer width), 20.5″ (inner width)
Height – 30.25″
Depth – 29.75″
Weight – 334 LBS
Cooker and Table Cart Specs (Trex and Stainless Steel):
Length – 29.75″
Width – 66″
Height – 47″
Weight – 460 LBS
Cooker and Handle Cart Specs:
Length – 29″
Width – 33″
Height – 44.5″
Weight – 435 LBS
Doesn't cast iron make it really heavy?
It's definitely heavier and more durable than ceramic kamados. Our Stand Alone cooker weighs 334 pounds. The 20.5″ Cooker with Trex® Table Cart weighs 460 pounds, or roughly the size of two grown men standing next to each other on your outdoor deck. By comparison, a "large" ceramic kamado is feather weight at roughly 160 pounds, but made of lighter, more fragile foreign made ceramic. So if it tips over, it's destroyed. If our Goldens' gets knocked over, which would take a lot of force, you just pick it up and keep cooking. Just knock the dirt and ash off the meat unless you're a beast!
How do I season my cooker?
Seasoning: Place searing plate and or grates on the cooker and use peanut oil or canola oil to coat them evenly. Set cooker at 350 degrees for one hour. You can repeat this process a second time for further seasoning before your first cook.
Cooker Maintenance
Grate and Searing Plate Maintenance: For post cooking, use a wood scraper only. NEVER use metal on your grates and searing plate. Clear the grates and searing plates of cooking debris. Before the cooker cools down, spray your searing plate and grates with cooking spray or canola oil to protect them from exposure to the elements.
Cooker Maintenance: To avoid exposure and moisture, keep your cooker top closed, the top vent closed and for good measure, cover your cooker once at normal air temperature. Consider storing your cast iron accessories indoors until the next cook. Get your cooker cover here!
Ash removal: Just remove your grates, searing plate, and firebox divider, if you have one, and simply use a shop vacuum to remove the ashes within the firebox. You can also open the lower vent and place your vacuum hose in that area to remove more ash. That's it!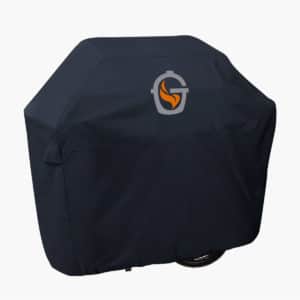 How do I clean out the ash?
Use a shop vac specifically for your cooker. You should first stir the lump coal to get rid of any charcoal fines.
Open up the sliding vent on the bottom of the cooker so that your vacuum hose is going under the firebox.
Then you simply stick the vacuum through the open slide gate and all ash will be gone in 3 seconds.
Reset vents to your normal setting based on the cook plan.
DO NOT VACUUM HOT ASH! This is very important. Make sure there is no heat in the cooker when you vacuum it out.
You shouldn't have to scoop out any lump, unless there are large pieces. Going in from the top and vacuuming out the firebox is easy. Then, open the bottom vent (door and screen), and you'll notice that the firebox is raised above the bottom by probably about 4-5 inches. So there is a large area beneath the firebox that you will have access to with your shop vac. All you have to do is place the nozzle inside that area, vacuum it out, and you're good to go!
Is the top easy to open?
Yes! Your cooker can be opened or closed with two fingers! With our engineered spring and hinge design, the 22.5" diameter lid can be easily opened with one hand. How did we do it? One word – Science. We know that usability is just as important as durability. We use our cookers all the time. So we have been designing and engineering with our users in mind.
How do I remove the fire box?
You will see a center hole at the bottom of the fire box. Go to a hardware store and get a long threaded rod. 1/2-13″ is a standard bolt size. Screw it into the hole and carefully lift it out. You will need more than one person. A word of caution. The cooker and cart could be potentially top heavy, once the firebox is removed, so please keep it on a level surface and don't attempt to flip the lid open quickly, or move the cart around until the firebox is back in position.
Mounting your cooker to an outdoor kitchen: If you are mounting your cooker to an outdoor kitchen counter, remove the firebox and you will see four bolts if it is mounted to a cart. Remove the bolts and lift the cooker from the cart. We advise that you have two or more people to assist.
If you purchased a stand alone cooker, meaning with no cart, there will be four holes for mounting. Make sure you have properly measured for bolts that are securely protruding from the mounting surface of your outdoor kitchen. NEVER place your stand alone cooker on a surface without mounting. It could tip and cause damage and injury. You must securely mount the cooker to a surface.
My replacement gasket won't stick!
No worries! The tape is heat activated. So you can apply your gasket two ways. One, you can use a heat gun or hair drier to heat the back side or adhesive side of the gasket, then apply it. Or easier, just heat your cooker and let it do the work for you! Once it's hot, just apply the gasket! Just make sure that you thoroughly clean the cooker top and bottom surfaces where the gasket is applied before you apply your new gasket. That's it! Make sure that all the old gasket is removed and the surfaces are smooth.
What's that oily stuff on my cooker?
The oily coating is just vegetable oil to protect the cooker during shipment. If you get the oil on fabric or carpet, it's easy to clean with baking soda, baby powder or other means. Just YouTube a variety of simple remedies!
Can you start the cooker in an extremely cold environment?
Slow and steady is the rule! It's best for you to raise the temperature gently, especially when temperatures are as low as -20F or even lower, for example. You're swinging hard from an extremely low temperature to a much higher temperature, so slow and steady is best. Our advice is to add a little lump charcoal, not a lot, then light it and let it slowly warm. Watch the temperature climb, then keep adding more to continue increasing the temperature in increments. You might be hungry but don't overdo it! Once you build the temperature past 50-100 degrees, you can add the rest of your lump to get it up to 200-300 degrees or whatever temp you're recipe calls for.
Can I double and triple stack my grates?
Our veteran cooker experts here at Goldens' say yes! You can easily double stack on both sides and close the lid with no issues, but triple stacking is best on one side, if you want to close the lid. See video for double stacking! CLICK HERE!
How do I mount my cooker to an outdoor kitchen surface?
To mount your Goldens' Cast Iron Cooker to an outdoor kitchen surface, you must first remove the fire box.
Fire Box Removal: The threaded center hole size, for firebox removal, takes a 1/2-13 threaded bolt or rod. The OD is roughly 1/2″ and there are 13 threads per inch (TPI).
The fire box easily weighs about 100 pounds so make sure you have another person or two helping. There is a threaded hole in the bottom of the fire box. It is 1/2-13 bolt hole size. Purchase a threaded rod from your local hardware store. Screw the rod into the center bolt hole of the fire box and make sure it's properly threaded and secured. With help, carefully lift the fire box up and out of the bottom part of the cooker.
**NOTE: Once you remove the firebox, the cooker becomes top heavy, especially when the top is open. Make sure you close the cooker top after fire box removal. Place the cooker in an area that is secured from being tipped until you are ready for kitchen installation. Please keep the cooker clear of pets and children while it is in this state.
Once the fire box is removed, you'll see four 3/8-16 bolt holes at the bottom of the cooker for mounting to your outdoor kitchen surface. We strongly recommend that you bolt it for safety so that the cooker is tightly secured. It absolutely must be secured to a surface. That means that you need your contractor to cement bolts on the surface that you will mount your cooker. Bolt size is 3/8-16 x 2.5 in long, stainless steel hex head bolt. Keep in mind that you might need longer bolts, depending on your design. After the bolts are cemented and cured, then you are ready to install your cooker.
Gently lower the cooker over the kitchen surface bolts. You will need several strong people to position it, given its weight. Make sure you have hex nuts to tighten the cooker, if you purchased a stand alone with no cart. Tighten the nuts to the bolts at the bottom of the cooker and then reinstall the fire box.
**NOTE: There is a tab at the bottom of the cooker for firebox alignment. Make sure you match the bottom of the fire box with the bottom of the cooker so that the fire box will seat in a level position. 
I scratched my cooker. How can I touch it up?
The cooker is specially powder coated with a high performance, high temperature gloss. For a touch up on the dome, we would recommend a high temperature paint you can buy at most hardware stores, similar to Rustoleum Black High Heat Ultra Spray Paint. It is heat rated at 1200 degrees. Or you you can choose Rust-Oleum Automotive Engine Enamel  It is heat rated at 500 degrees and is more of a true gloss black.
How do I reach Customer Support?
If you need any help with our cookers, fire pits and weights, just go to our Customer Service page!
Is there a User Manual or Warranty Info on the Kamado?
Why is there a hole in middle of the searing plate? Does it create a hot spot?
The hole is for safely lifting the searing plate out of the cooker with the grate lifting tool. Yes, the hole can create a hotspot so here's a simple solution that works really well. Take a piece of aluminum foil, wad it up, and cover the hole before or while cooking. That will eliminate the hot spot!
Since it's made out of metal, won't it get really hot?
Let's be clear, if you're grilling over high heat so that you can perfectly sear those t-bones on our cast iron searing plate at 800°, the outside of the grill will be hot – just like it is for all cookers with a grate temperature of 800°! But unless you have both poor judgment and a leaf blower you won't be upwards of 800° much of the time (seriously, put down the blower). So you'll need to use the same care you use around any other grill or cooker.
Will the Trex® Shelving Melt?
Trex® is a very robust material and will last many years, however it is made of a composite material so if you place your grates or any other super heated item on your Trex, you will score it and leave marks. We suggest that you place something on your Trex that will not transfer heat. It could be a serving tray or a hearty fabric to protect from super heated items like grates, searing plates, serving plates, etc.
Can you cook in extremely cold sub-zero weather?
That's a great question.  Our cooker is safe to cook on at the most extreme temps. Our iron is a proprietary blend of ductile and grey iron that allows the iron to flex with extreme temperature shifts, so it won't crack! See this review from a Goldens' owner from Wauwatosa, Wisconsin! Youtu.be/XLR3Xy7Qazk
Getting Down to Details...
The Cooker Cart Combo weighs in at 450 lbs. That's a 330 lb Cooker and a 120 lb Cart.
The total dimensions of the Cooker and Cart are 66″ wide, 47″ tall and 27.75″ deep.
The available cooking surface is 21″ which gives you 330 square inches of cooking space!
Can I get colors?
First, black is a color. In fact, it's our most popular color. If you want to ask about a different color combination, you better give us a call.
Is it just good for smoking?
Heck no! It's versatile!
Smoking – Slow cooking at a low temperature is easy. The Goldens' Cast Iron Cooker can hold temperatures for more than 12 hours without having to add additional lump charcoal.
Grilling – Just like a traditional charcoal or gas grill, but with the added benefit of radiant heat which means more moisture is retained in the food.
Searing – The Goldens' Cast Iron Cooker can easily reach temperatures above 600 degrees. Using the searing plate means you can sear steaks to perfection.
Baking – Yes, baking! Anything you can bake in an oven you can bake on the Goldens' Cast Iron Cooker. Anything? Yes… turkey, pizza, cake, chicken, mac & cheese, casseroles, and more.
Is burping rude?
Not when you are cooking on the Goldens' Cast Iron Cooker. When you are cooking at temperatures above 250 degrees, you should burp your Cooker. Simply open up the dome a couple of inches, close, and repeat three times. By burping the grill, you are preventing potential flare ups.
What happens if I don't burp the Goldens' Cast Iron Cooker?
This really is a safety issue. The trapped heat can quickly exhaust if the grill is opened up too fast. The result can be spontaneous combustion! If you don't want hair on your arms, however, this can get the job done fast.
Join the Iron Age!
It all starts with our Goldens' Cast Iron family of Products!