Join the Iron Age!
It all starts with our Goldens' Cast Iron family of Products!
The Advantages of the Mini!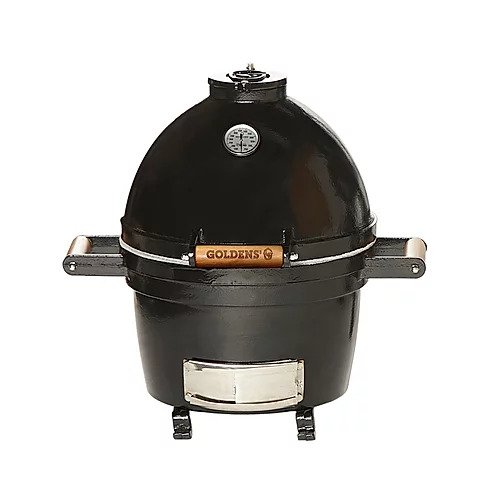 Cooking with cast iron offers advantages over alternative cookers, such as:
Cast iron provides the highest levels of crack and shock resistance.
Superior Cooking Material
Cast iron's radiant and thermal properties provide even heating and precise temperature control. Everyone knows nothing tastes as good as food cooked in grandma's cast iron skillet.
Precision cast integrated hinge offers bandless design, closing on a single axle for a perfect seal every time. Other cookers require band and hinge maintenance over time to correct lid misalignment.
The more pieces you have, the more problems you have. Our firebox is one piece, solid iron. Strong. Stable. Durable.
Weather-resistant shelves are perfect for food prep.
All-Weather High-Temperature Powder Coat Finish
Prevents rusting and weathering effects.
Cooker Specs:
21.25″ – Length
21″ – Width
20″ – Height
123 Ibs.
7/8″ – Cast Iron